Belly Dancing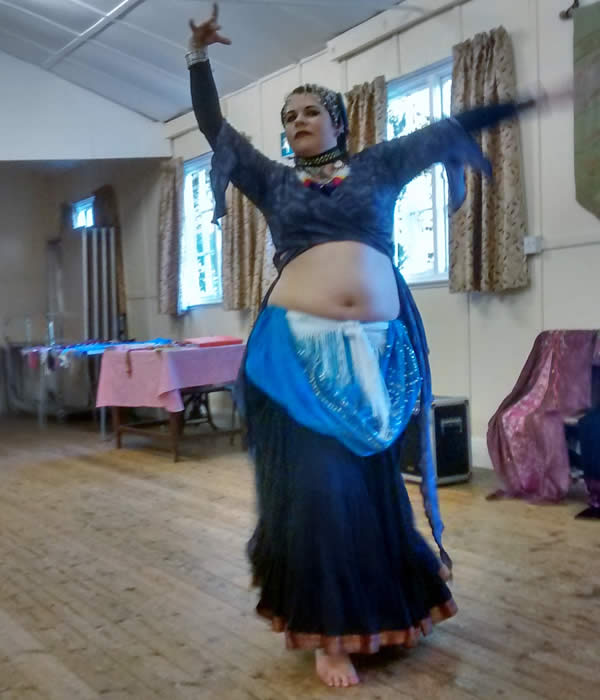 At our open meeting in June we had several visitors attracted by the opportunity to see and find out about Belly Dancing from teacher and expert of 13 years Victoria Strudwick of Sudbury.
This dance form has many styles and influences from years old, middle and eastern traditional to contemporary fusion styles taking influences from Indian, Flamenco and Tribal ethnic areas. Victoria explained that it evolved as dancing by, and with, other women for women and not as perceived by some today as erotic enticement for men. She showed us several different forms of handmade, elaborately decorated dresses with their brightly coloured, embellished belts, scarfs and headwear as well as playing a variety of music for some of the various styles.
The ladies were then left mesmerized as Victoria then demonstrated her particular speciality of American Tribal Fusion which is a non- choreographed form developed in the U.S.A. in the 1980's. She glided, swished, jangled beautifully across the floor whirling gracefully with every shape precise and delicate. The use of her hands and arms was particularly striking and then it was our turn!!! She patiently taught us some moves and shapes and techniques and everyone made a very good effort to match Victoria. It was full of laughs, free flowing, rhythmical and very exciting. It was great to see that some had a real aptitude for the movements and perhaps will look to continue this further later. Victoria was warmly thanked for such a lovely evening by all.