The Wickhambrook Bowls Club…
Come and join the Wickhambrook Outdoor Bowls Club, players from all districts most welcome.
Tuesday Bowls
Club sessions run on Tuesday from 10.30am
Friday Bowls
Club sessions run on Fridays from 6.30pm
Sunday Bowls
Club sessions run on Sundays from 2pm
Just come along at a time that suits (no advance notice necessary) and we guarantee you a warm welcome. There are no upper or lower age limits.
Further details of the club can be obtained by contacting the Secretary.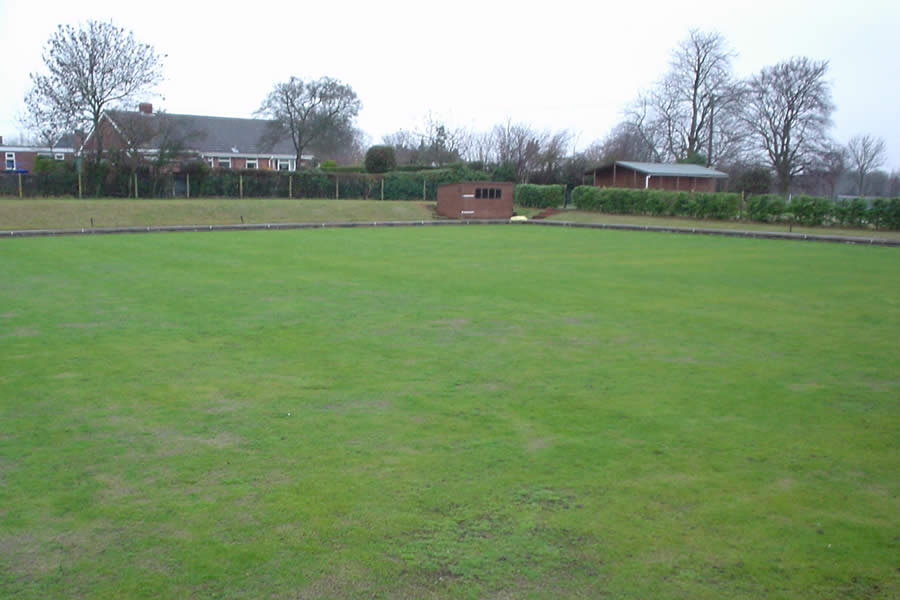 For further information on joining the Bowls Club, please contact :
Wickhambrook Bowls Club has been going through a thin and continuously thinning patch in recent years. With membership down to only around 7 or 8 of whom only 4 or 5 meet sporadically on Tuesday mornings for a few friendly 'ends', while a couple of members sometimes play on a Friday evening or over a fair-weather weekend, club activity is at an all-time low. Maintenance of the facility is undertaken by the members, on a voluntary rota, comprising weekly, sometimes twice weekly 1½ hour close-mowing of the fine-turf green with the cylinder mower, 1-2 hour rotary-mowing of the surrounding banks around three times each year and cutting and clearing the perimeter hedges and fences which is a once or twice a year task. Added to that is the essential watering in any 'no-rain' period longer than a fortnight. Watering domestic lawns is generally considered to be an anti-social 'no-no', but the 1,600 sq metres of fine turf on a bowls green cannot survive a week or two of 'dry period' let alone a full on drought. So 'rescue' watering is sometimes a necessary activity and can take 2 or more days of hourly visits on each occasion. This is now all undertaken by only 5 of the more able members.
A couple of years ago the volunteers' maintenance rota, with 9 or 10 volunteers, was on a 5- or 6- week cycle. Today it's on a 3-week cycle and, with diminishing membership, this maintenance load is becoming unsustainable.
It comes down to this… Unless we get some more active members who would enjoy a weekly 'roll-up' in friendly local games (we don't participate in any 'cut-throat' local league matches – that's all too fraught and demanding for a small village club), we'll have to wind it up and leave the maintenance of the then unused bowls green to the Parish Council who own it. That would then be an expensive 'whole village' responsibility – a situation which perhaps would be best avoided if possible.
This year is probably the critical 'make or break' year for this club and this activity in Wickhambrook, unless a few more people would like to enjoy a weekly or fortnightly hour or two, among a friendly goup, engaging in the admittedly rather ridiculous, but thoroughly engaging and always good fun business of rolling a bowl closer to a smaller white ball (the 'jack'), than their companions. It's an 'any age' and 'any ability' activity. A raw beginner has almost as much chance of placing a bowl within yards (let alone inches!) of the jack as the long-term member. Every game is a revelation of mis-rolls, near misses and no-hope wide-of-the-mark shots as well as the "I meant that to happen" well aimed and perfectly lengthed (ie 'lucky') shots. Sometimes we wonder if even our long-term members know which lane we're playing on! For our weaker members we're happy to play 'short ends' – that's around halfway or less across the green, while for our more energetic (or 'show-off') members we're (more or less) happy to struggle with a 30 metre length.
It's all good fun and the perfect game for absolute beginners. But it won't be available in Wickhambrook for much longer if too few people want to use the green. So if you'd like to try your hand at rolling a bowl, just to see what it's like (and in private if you're a bit shy), call the current club chairman (Steve) on 01440 820520 and, using any of the free-to-use club bowls, you can try your hand at 'rolling a bowl' and discovering how easy (and how surprisingly unpredictable) it is.
But don't put it off or leave it too long. It's now or never, because time is running out. The playing season ends in late October and the way things are going 2016 could well be the last year of bowls in Wickhambrook, which means this could be the last Bowls Club report and this the last open invitation.
Wickhambrook Bowls Club was reformed in April 2008 (the original club having closed its doors the previous August) by a small group of non-bowls playing enthusiasts not wishing to see the demise of a valuable village facility.
Wickhambrook Bowls Club has its own 6 Rink Bowls Green, with probably the best views of any green in the country, at the Wickhambrook Recreation Ground adjoining the MSC on Cemetery Road, Wickhambrook. This year has seen it become the fastest growing club in the village with membership numbers now exceeding 25 – but we've got more than enough room for plenty more!!!
There are NO UPPER OR LOWER AGE LIMITS, no leagues, no pressures – Just relaxed FUN! Why not bring your whole family and all your friends…
Sessions are held on Tuesdays from 10.30am and Fridays from 6.30pm (between April & September); although members are free to use the facilities at any time. Everyone is welcome to join us at any of these sessions and you can try your hand at bowling for free if you fancy; I can guarantee you will be met with a warm reception. We can provide all the equipment you need to play and would encourage you to have a few goes before joining the club. TRY SOMETHING NEW YOU JUST MIGHT LIKE IT!
For your safety and for the preservation of the green flat shoes, such as trainers, must be worn at all times when bowling. Further details or membership information can be obtained by contacting Elaine Taylor, club secretary on 01440 821721.