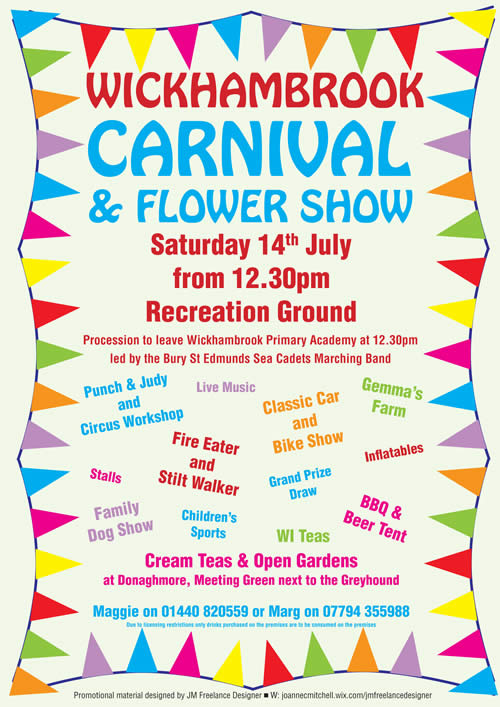 WICKHAMBROOK CARNIVAL will commence at 12:30 with a themed (to be decided for 2018) walking parade led by the new Prince/Princess. The route will be similar to previous years leading back to the playing field for the Official Opening of the Carnival at 1pm.
Volunteers
The Carnival Committee would greatly appreciate additional volunteers to help set up and run events. If you can spare a few hours – even one hour – either on Friday 13th July or on Carnival Day itself please get in touch with Sue on 01440 820413 or Maggie on 01440 820559.
Events this year include Beer Tent, BBQ, a variety of stalls, and much more…
Fun Events
Car Show, Poppies Farm, Circus Workshop
Lots to do
Bouncy Castle & Assault Course, Swing Boat, Kiddies Roundabout
Animals
Donkey Rides, Dog Show, Dog Agility
Sports and Dance
Hundon Dance School Dance Display, Chedburgh Choir, Children's Sports
Prizes
Barrow of Booze, Grand Prize Draw, Bottle Tombola
Get in touch
Please contact if you are interested in becoming involved with the Wickhambrook Show.