What Does an Artist do all day?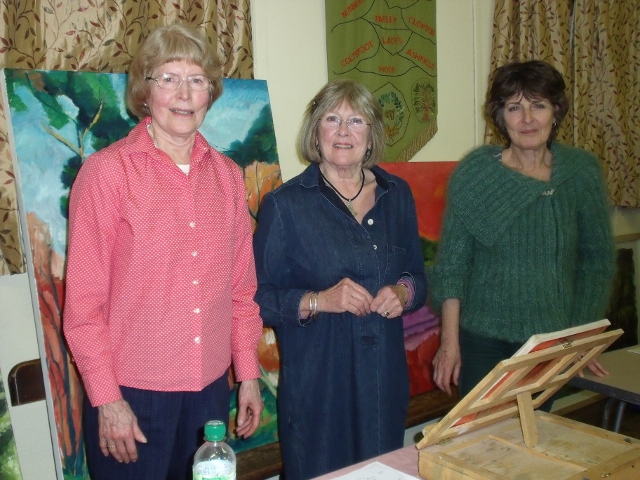 This month's meeting was truly "In House" with three members telling us "What does an artist do all day". Ruth Seal, a calligrapher, Jayne Pope painter and graphic artist and Jackie Merry, print maker are all professional ladies using their talents to earn income, satisfaction and admiration in a wide variety of artistic disciplines.
They each gave an overview of their speciality and its applications as well as a little background as to how they came to be doing these activities, illustrated with samples of the finished product. These were very impressive and it's easy to see why commissions, projects and orders are sought out from each of them. It became clear that although very different in techniques, organization and ways of working some essential characteristics were demonstrated by each of them, Patience, enthusiasm, determination and a quest for perfection were obvious in them all. Members were given a chance to try various techniques from Ruth, Jayne and Jackie giving us a better understanding of the time and effort required to achieve their skill.
Everyone delighted in the opportunity to try for themselves and view the variety of wonderful work displayed.
What super talent we have at Wickhambrook what else might be waiting for us to discover at future meetings we can but wait and see!!